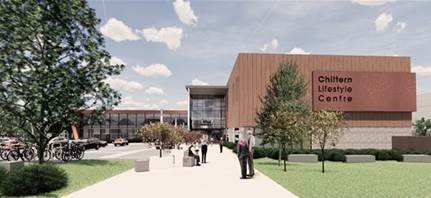 New leisure operator for Chiltern District Council
After a robust procurement process managed by Max Associates, Everyone Active has been awarded the contract to operate Chiltern District Council's leisure centres, including the new Chiltern Lifestyle Centre for the next 15 years.
Everyone Active will manage the Council's leisure centres in Amersham, Chesham and Chalfont St Peter from 1 April 2020 and will manage the new Chiltern Lifestyle Centre when it opens in 2021. The Chiltern Lifestyle Centre will replace the existing Chiltern Pools in Amersham, which is over 50 years old and in urgent need of repair. It will be a leisure and community centre, with facilities such as an 8-lane 25 metre swimming pool with viewing, a diving / teaching pool alongside a kids' splash pad area, four badminton court sports hall, dry diving training facility, two squash courts, climbing wall, children's soft play area and clip 'n' climb, library, café area, pool spectator area, exercise studios, 150 station gym, community centre (events/theatre space and community meeting spaces) and spa.
As part of the project, the council is also investing in the leisure centres in Chesham and Chalfont St Peter. Over £4 million will be invested in the Chalfont and Chesham leisure centres to refurbish and update the centres, to ensure continued high quality facilities are available for the local community. This means local residents in Amersham and surrounding towns and villages will be able to access excellent facilities for physical activities, social interaction and community activities, helping support the community to lead healthier lifestyles.
Cllr Liz Walsh, Chiltern District Council Cabinet Member for Healthy Communities, said: "Following a robust procurement process, I am delighted to confirm that we have awarded the leisure centre operator contract for the next 15 years to Everyone Active. Working in partnership with Everyone Active, we have exciting plans for Chesham and Chalfont St Peter leisure centres and visitors will start seeing this refurbishment happening soon."https://chiltern.gov.uk/newleisureoperaetor