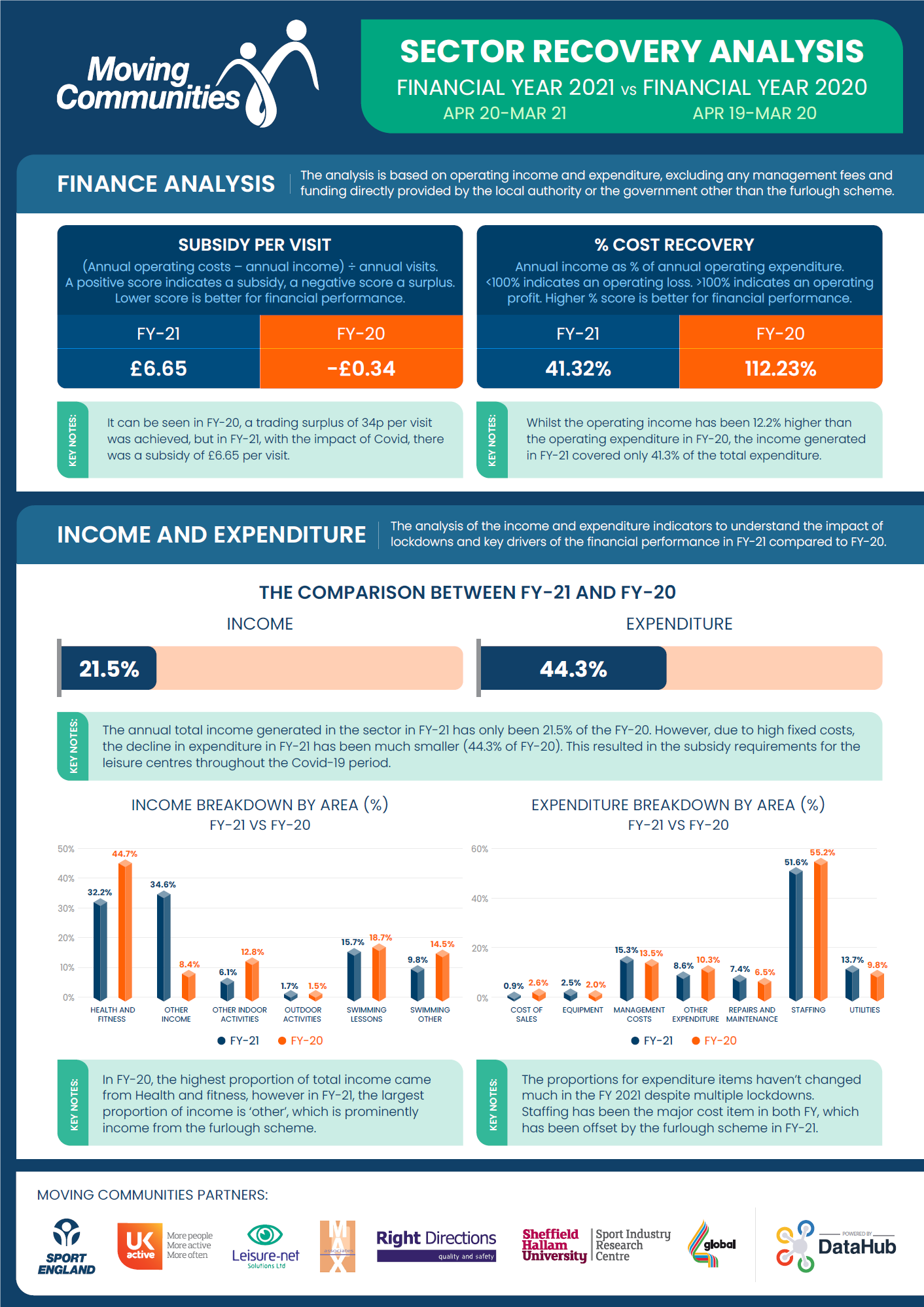 Latest Moving Communities sector recovery analysis revealed
The latest Moving Communities analysis focuses on financial evaluation, reporting on aggregated sector comparisons in financial performance between the periods April 2019 – March 2020 and April 2020 – March 2021 respectively. The report used subsidy per visit and % cost recovery as performance indicators and the impact of COVID-19 and how it influenced income and expenditure.
Results showed that the annual total income generated in the sector in FY-21 has only been 21.5% of the FY-20. However, due to high fixed costs, the decline in expenditure in FY-21 has been much smaller (44.3% of FY-20). This resulted in the subsidy requirements for the leisure centres throughout the Covid-19 period.
Lisa Forsyth, Director of Max Associates says "the latest financial analysis is really useful to gain industry insight as we recover from the pandemic which is crucial to plan services going forward. This data will assist local authorities, leisure providers and policymakers to inform decision making."
Max Associates is one of a consortium of partners running the Moving Communities tracking tool which measures the impact of the UK's 100m National Leisure Recovery Fund, in helping public sector sports, fitness and recreation facilities recover from the COVID-19 crisis.
Notes to editor;
Subsidy per visit: The difference between annual operating costs and annual income distributed over the total visits. A positive score indicates a subsidy (operational loss), a negative score a surplus (operating profit).
% Cost recovery: Annual income as a percentage of annual operating expenditure. Less than 100% indicates an operating loss, greater than 100% indicates an operating profit.