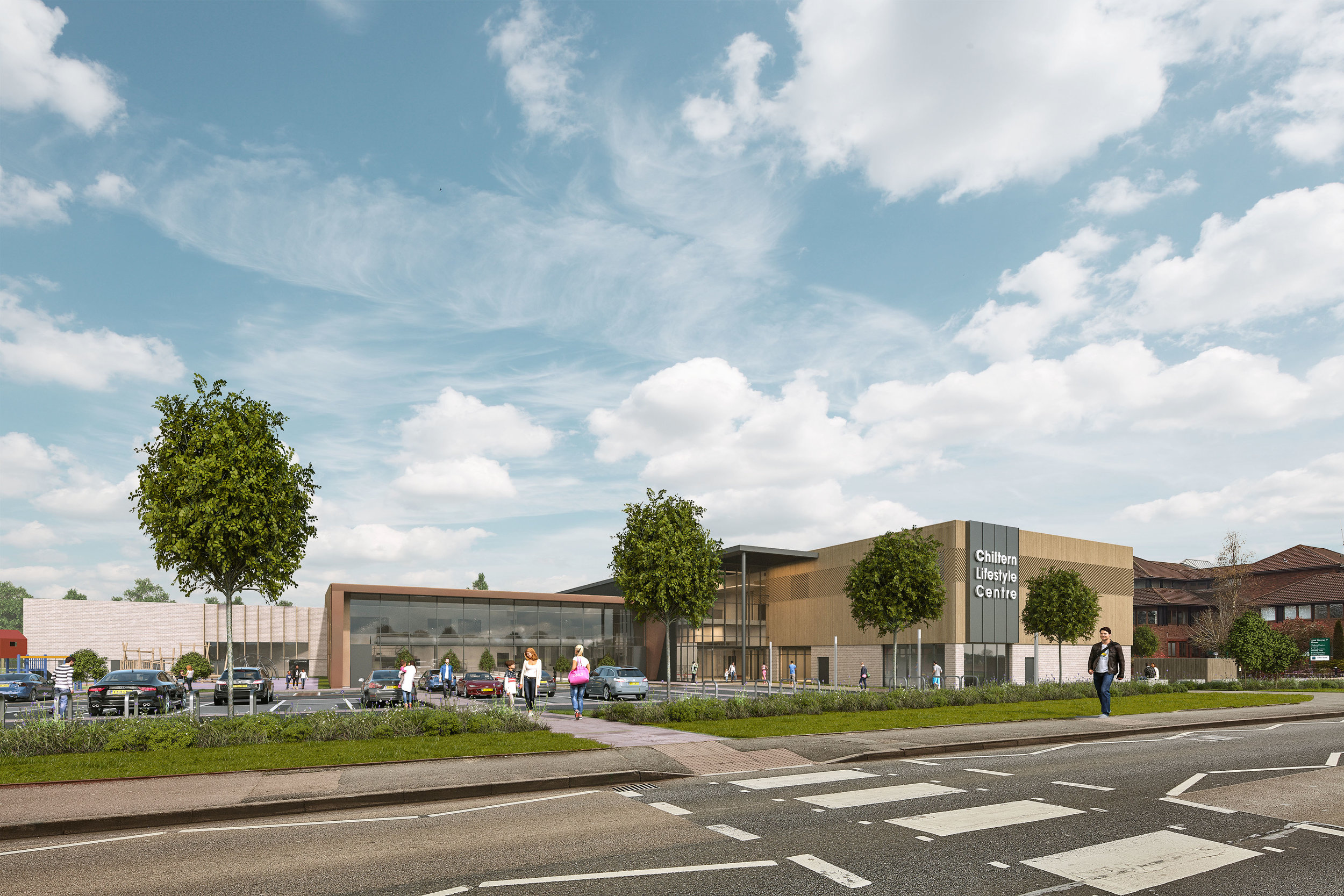 New Chiltern Lifestyle Centre in Amersham opens to the public
The brand new £36 million Chilterns Lifestyle Centre in Amersham opened on Monday 6 December 2021. Residents and visitors were able to take a look inside Buckinghamshire Council's flagship lifestyle venue which boasts a fantastic array of facilities to suit everyone of all ages, including: an eight lane, 25 metre swimming pool, diving pool, teaching pool alongside a children' splash pad area, dry diving training facility, 130 station state-of-the-art gym, group cycling studio, group exercise studios, Mind & Body studio, sports hall, squash courts, climbing wall, bouldering facilities, clip 'n climb, children's soft play area and luxury spa and treatment facilities. In addition to this there is a library, community centre, café, pre-school nursery and function rooms for hire; all under one roof.
Outside the centre there is a skate park, street snooker, outdoor gym and play equipment to the rear of the centre. Coming next year there will be play equipment to the front of the centre, a MUGA and a Petanque area.
Councillor Clive Harriss, Cabinet Member for Culture and Leisure at Buckinghamshire Council said: "Throwing open our doors to residents and visitors is a momentous day seeing the state-of-the-art building come to life. The Chilterns Lifestyle Centre will not only provide first-class leisure facilities, but it is also going to be an important community and social venue for people of all ages.
"It has been a challenging construction project through an unprecedented time, but there's been a huge team effort to get to this point and credit must go to the whole project team and everyone who has been involved in creating this incredible centre."
Max Associates worked closely with then Chiltern District Council to develop a SOPM report and helped secure a strategic facilities grant of £1.6 million from Sport England towards the new Chiltern Lifestyle Centre.  Since working on the SOPM, Max Associates managed the procurement process for an operator of the new Chiltern Lifestyle Centre, which resulted in a successful appointment of SLM.
Paul Nanji, Leisure & Community Manager at Chiltern District Council, said: "In 2018 Max Associates was commissioned to deliver a Strategic Outcomes Planning Model Report for Chiltern District Council, the driver for the planning model was the need to develop the Chiltern Lifestyle Centre, a new state of the art leisure and community facility in Amersham. The work produced by Max Associates was of an excellent quality and they approached the project with great enthusiasm, imagination and in a very professional manner, with good communication from start to finish. Consequently, the final SOPM report has resulted in a successful EOI submission to Sport England, and £1.6m grant secured.  Lisa Forsyth did a great job of pulling together the Strategic Outcomes Planning Model Report which was instrumental to securing the grant."
www.everyoneactive.com/centre/chilterns-lifestyle-centre/
The short clips below give a tour of the new fitness and soft play facilities.
https://www.facebook.com/watch/?v=857416958259621