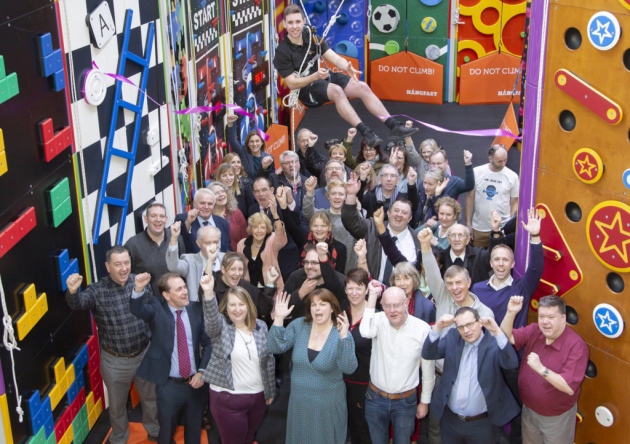 Haverhill Leisure Centre officially reopens after £1.5 million refurbishment
Visitors were delighted to try out the range of new facilities on offer at Haverhill Leisure Centre following the completion of an extensive refit. Max Associates were commissioned by Abbeycroft Leisure in February 2017 to complete a feasibility study which included revenue business plans for various developments, including climbing, soft play, gym extensions and parkour.
On the completely overhauled first floor the new facilities include new changing rooms, an extended gym, super-sized studio spaces for an increased range of high demand classes including new virtual body combat, body pump and body balance classes.
On the ground floor there is the Self Centre, brand new to Haverhill, and offering mindful classes in disciplines such as yoga, pilates, meditation as well as individual therapies by appointment, a new café, Energy, the children's soft play area, with dedicated children's party space, X-Height indoor climbing experience, parkours and two courts.
The swim facilities remain unchanged. At the same time the sports hall at Samuel Ward Academy has been enhanced through a community use agreement with Unity Schools Partnership to enable better use by sports groups.
Warren Smyth, CEO of Abbeycroft Leisure thanked leisure customers and staff for their understanding and support during delivery.
"Haverhill has a great atmosphere and the relationship staff have with users has been crucial in making this go smoothly, to budget and on time. What we have now is market leading and something the town deserves."
Sarah Howard, Chairman of Abbeycroft, said: "I was supposed to be there for half an hour and I stayed for three hours because it was just fantastic watching the families coming in and saying 'Wow, just look at this'. 
"And so many times the comment was, 'What a wonderful thing for Haverhill'."