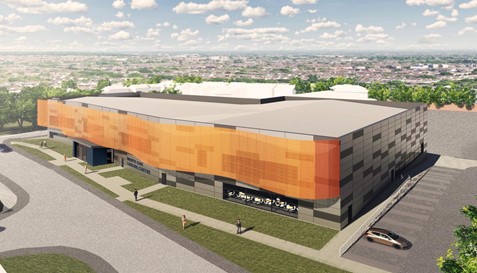 £20m new build White Oak Leisure Centre opens to the public  
The brand new £20m White Oak Leisure Centre in Swanley opened to the public on Saturday 12 February. Residents and visitors were invited to take a first look around the new centre, operated by Everyone Active.
The new centre features two pools – a 25m six lane main pool with a movable floor and a learner pool – and  also boasts a 100+ station gym that's packed with all the very latest fitness equipment, a soft play area, a virtual group cycling studio, a two-court sports hall and multi-purpose rooms. The centre also includes TAG Active, a game-based indoor obstacle course for kids.
The new centre houses a 'feel good suite', an area that's been specifically designed for people who find it more difficult to exercise. It features equipment to help boost movement and strength.
The project first began back in 2019 when Max Associates were appointed by Alliance Leisure (ALS) and Sevenoaks District Council to deliver a feasibility study for the replacement of White Oak Leisure Centre.
Max Associates supported ALS by developing a suitable and innovative facility mix for the new centre, to meet the Council's objectives to maximise usage and focus on providing facilities for local residents and families in Swanley.
Following Council approval in April 2020, ALS announced that they were "delighted to have been appointed by Sevenoaks District Council to deliver this "historical" £20m project, procured through the UK Leisure Framework (owned by Denbighshire Council)". The Alliance delivery team has worked closely with the Council, from concept to cost certainty, to prepare an amazing new facility for Swanley, fit for the future.
You can find out more about the new centre here:
https://www.everyoneactive.com/centre/white-oak-leisure-centre/